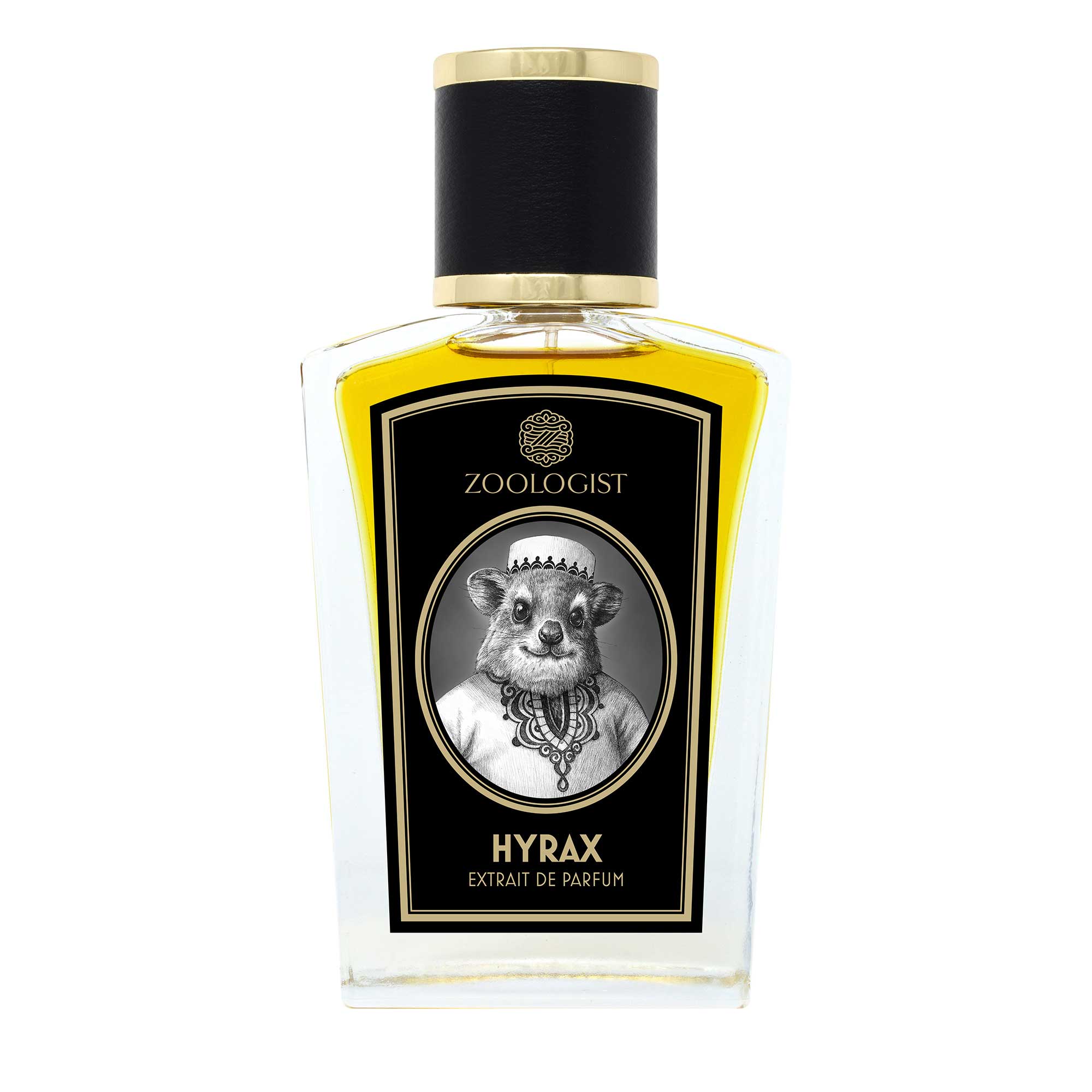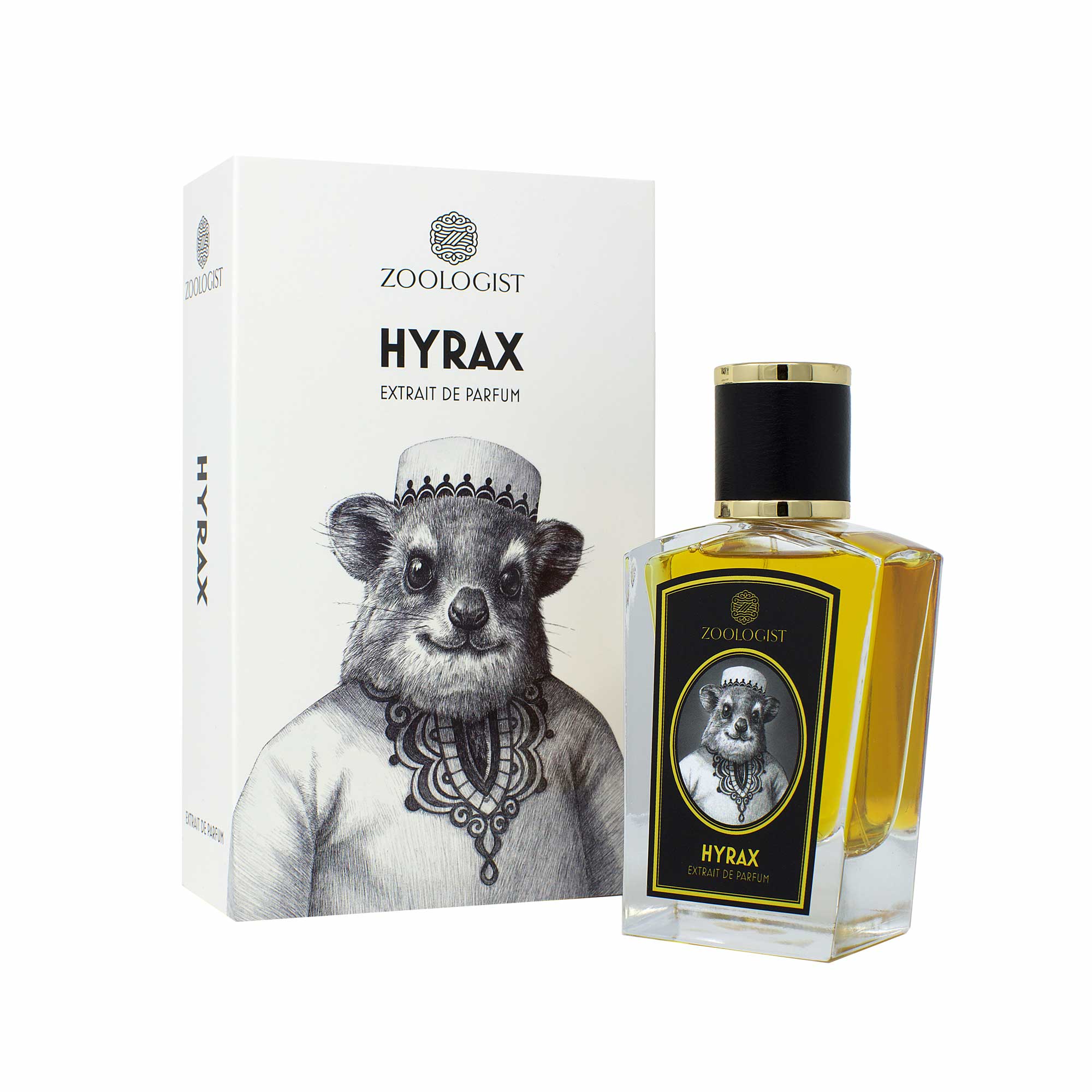 Zoologist Hyrax Extrait De Parfum (60ml)
Perfumer: Sven Pritzkoleit
Parfum Concentration: 20%
Top Notes: Elemi, Pink Pepper, Saffron, Turkish Rose
Heart Notes: African Stone, Hyacinth, Styrax, Whiskey
Base Notes: Amber, Benzoin, Castoreum*, Civet*, Patchouli, Sandalwood, Tonka
*Synthetic notes. Zoologist Hyrax does not use animal derived musks.
Climbing to its perch in the morning sky, the African sun reaches across a mountain range to caress a wide, flat boulder, baking it to a gentle heat. From the shade of a narrow crevice, a family of hyrax emerges, hot dust dulling the sheen of their golden fur. They settle onto the warm expanse of rock to partake in their ritual sunbath, but remain ever vigilant. The shadow of a soaring eagle rushes across the ground. With an urgent squeal, the alarm is sounded - the colony dashes for cover. As the heat from sweltering sun intensifies, ancient aromas are coaxed from the scorched rocks, sparse vegetation and petrified hyraceum. Eerily, they intertwine to form a scent that is both primitive and exotic, its animalistic tendencies tamed by an undercurrent of sweet florals.
At the heart of Zoologist Hyrax is a daring, seldom-used ingredient in the art of perfumery – African stone, or hyraceum, giving this bold animalic scent its distinctive signature. This unique perfume skilfully blends saffron, pink pepper, whiskey, rose and musks to invoke an abstract image of a dusty African mountainscape. Like the nimble hyraxes that spill from hillside crevices in search of the sun upon their musky hides, this scent will weave its way into your senses with a light but primal touch.
We aim to dispatch all orders placed before 4pm Monday - Friday on the same working day. Any orders placed after 4pm Friday will not be dispatched until the following Monday. No orders will be dispatched on bank holidays.

Postage rates (UK)

Royal Mail Tracked 48 - 2-3 working days* - £4.25
Royal Mail Tracked 24 - next working day* - £5.50
*These are delivery aims and are not guaranteed.

Postage rates (International)

We use a number of international couriers depending on your delivery address, order size, value, weight etc. For the most accurate shipping rate, please add the desired items to your cart and use the shipping estimator tool at the bottom of the cart page.

Brexit, EU orders & import taxes

Slickboys is IOSS registered, which means you won't have to pay import taxes or duties for orders shipped to the European Union as long as the total before shipping is below the €180* threshold. Note that shipping charges are separate and don't count toward the threshold. Click here for full details.

Note: The €180 threshold assumes a VAT rate of 20%. The threshold, excluding VAT, is €150. Refer to the table on our IOSS page for the exact threshold for your specific country.
We hope you will love everything that you order from us but if something isn't quite right, you have 14 days after receiving your item to return it. Returns are completely free in the UK with no printer or post office drop off necessary. Read more here.
Choose options