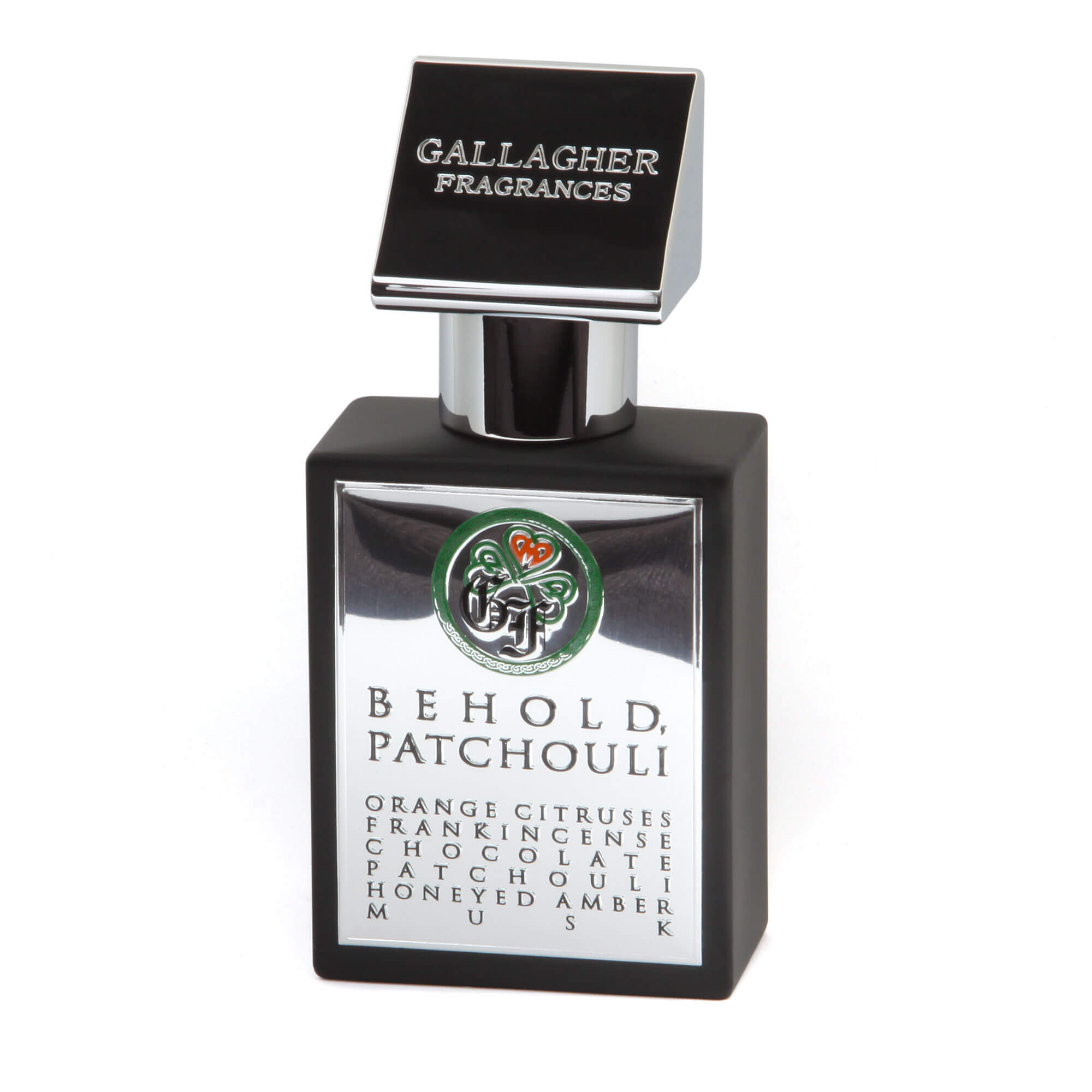 Gallagher Fragrances Behold Patchouli Eau De Parfum (50ml)
Behold, Patchouli is a magnified look at the wondrous material found in many of our most favourite and timeless perfumes, Patchouli. Patchouli in and of itself can give off any number of different scents, sometimes chocolatey, sometimes earthy, sometimes citrusy, which we have come to love over the years. You'll find Patchouli placed in the base of perfumes, and it's what you'll often find lingering on your skin the next morning, but what happens when we take each possible facet of Patchouli and magnify them?
Behold, Patchouli opens with a bright mélange of orange citruses, like bitter orange, blood orange, sweet orange, clementine and rare Tunisian neroli, celebrating patchouli's fresh citric nuances. To embrace patchouli's balsamic greenness, you're introduced to sparkling Oman frankincense, a cream soda accord and rich, root-beer-like benzoin. Patchouli also tends to emit chocolatey nuances, represented in Behold, Patchouli by a powdery chocolate accord. Sweetness is normally not something the mind conjures up when thinking about patchouli, but if you smell it long enough, you will find a light, enduring sweetness, which is why Daniel included some honeyed amber and tonka bean. Rounding out the base, you're swept away by some buttery, premium Australian sandalwood and a regal, refined Tonkin musk accord. Of course, a fragrance named Behold, Patchouli would not be complete without some actual Patchouli. The patchouli featured in Behold, Patchouli is eight-year aged Indonesian patchouli which comprises over 10% of the fragrance concentrate. Behold, Patchouli... more than just Patchouli.
Scent Notes: Aldehydes, Bergamot, Egyptian Bitter Red Orange, Italian Blood Orange, Sweet Orange, Italian Clementine, Tunisian Neroli, Oman Frankincense, Powdered Chocolate, Spanish Labdanum Resin, Honeyed Amber, Brazilian Tonka Bean Absolute, Cream Soda, Benzoin, Australian Sandalwood, Tonkin Musk, 8-year Aged Indonesian Patchouli.
We aim to dispatch all orders placed before 4pm Monday - Friday on the same working day. Any orders placed after 4pm Friday will not be dispatched until the following Monday. No orders will be dispatched on bank holidays.

Postage rates (UK)

Royal Mail Tracked 48 - 2-3 working days* - £4.25
Royal Mail Tracked 24 - next working day* - £5.50
*These are delivery aims and are not guaranteed.

Postage rates (International)

We use a number of international couriers depending on your delivery address, order size, value, weight etc. For the most accurate shipping rate, please add the desired items to your cart and use the shipping estimator tool at the bottom of the cart page.

Brexit, EU orders & import taxes

Slickboys is IOSS registered, which means you won't have to pay import taxes or duties for orders shipped to the European Union as long as the total before shipping is below the €180* threshold. Note that shipping charges are separate and don't count toward the threshold. Click here for full details.

Note: The €180 threshold assumes a VAT rate of 20%. The threshold, excluding VAT, is €150. Refer to the table on our IOSS page for the exact threshold for your specific country.
We hope you will love everything that you order from us but if something isn't quite right, you have 14 days after receiving your item to return it. Returns are completely free in the UK with no printer or post office drop off necessary. Read more here.
Choose options