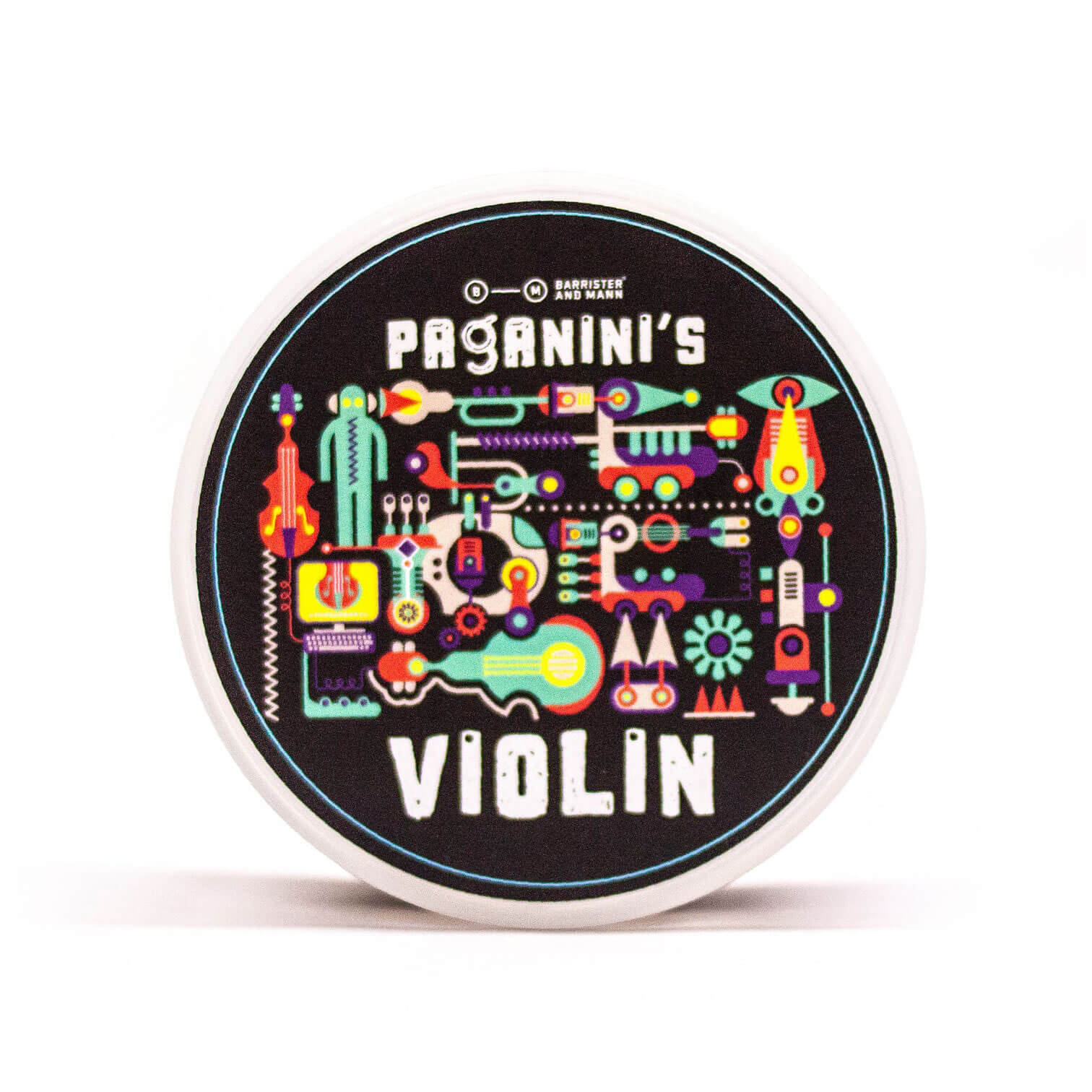 Barrister and Mann Paganini's Violin Shaving Soap (4oz)
Paganini's Violin is proudly offered in the new lanolin-free Omnibus shaving soap base.
Legends abound of the remarkable skill of Italian violin virtuoso Niccolò Paganini, the greatest violinist of his time. He was so singularly talented that the story goes that he was playing a new composition at a nobleman's villa one evening, a piece commissioned by the nobleman to draw a pretty woman's affections. Paganini played beautifully, surrounded by admiring listeners, until one of the strings on the instrument snapped. Undaunted, Paganini continued to play without missing a note, and a second string snapped. He continued without interruption, to the amazement of everyone around him. Surely he could not continue? But then a third string snapped, and still Paganini continued to play, completing his performance on only the one remaining string on the violin. Awestruck, the listeners broke into thunderous applause, and the legend of Niccolò Paganini grew.
But in his later years, when asked by a biographer about the story, Paganini revealed the truth: the piece had been specifically written to be played on successively fewer strings, and it was Paganini himself who broke each one as he played, dazzling his audience in the process.
For Paganini's Violin, Barrister and Mann have composed a fragrance built on multiple variations on a single note, all playing together into one unified, singular whole. The smell of clean skin after a hot shower, interlaced with fruity undercurrents and tea, Paganini's Violin is one of their most unusual experiments and decidedly an in-house favourite. We know you'll love it too.
We aim to dispatch all orders placed before 4pm Monday - Friday on the same working day. Any orders placed after 4pm Friday will not be dispatched until the following Monday. No orders will be dispatched on bank holidays.

Postage rates (UK)

Royal Mail Tracked 48 - 2-3 working days* - £4.25
Royal Mail Tracked 24 - next working day* - £5.50
*These are delivery aims and are not guaranteed.

Postage rates (International)

We use a number of international couriers depending on your delivery address, order size, value, weight etc. For the most accurate shipping rate, please add the desired items to your cart and use the shipping estimator tool at the bottom of the cart page.

Brexit, EU orders & import taxes

Slickboys is IOSS registered, which means you won't have to pay import taxes or duties for orders shipped to the European Union as long as the total before shipping is below the €180* threshold. Note that shipping charges are separate and don't count toward the threshold. Click here for full details.

Note: The €180 threshold assumes a VAT rate of 20%. The threshold, excluding VAT, is €150. Refer to the table on our IOSS page for the exact threshold for your specific country.
We hope you will love everything that you order from us but if something isn't quite right, you have 14 days after receiving your item to return it. Returns are completely free in the UK with no printer or post office drop off necessary. Read more here.
Choose options