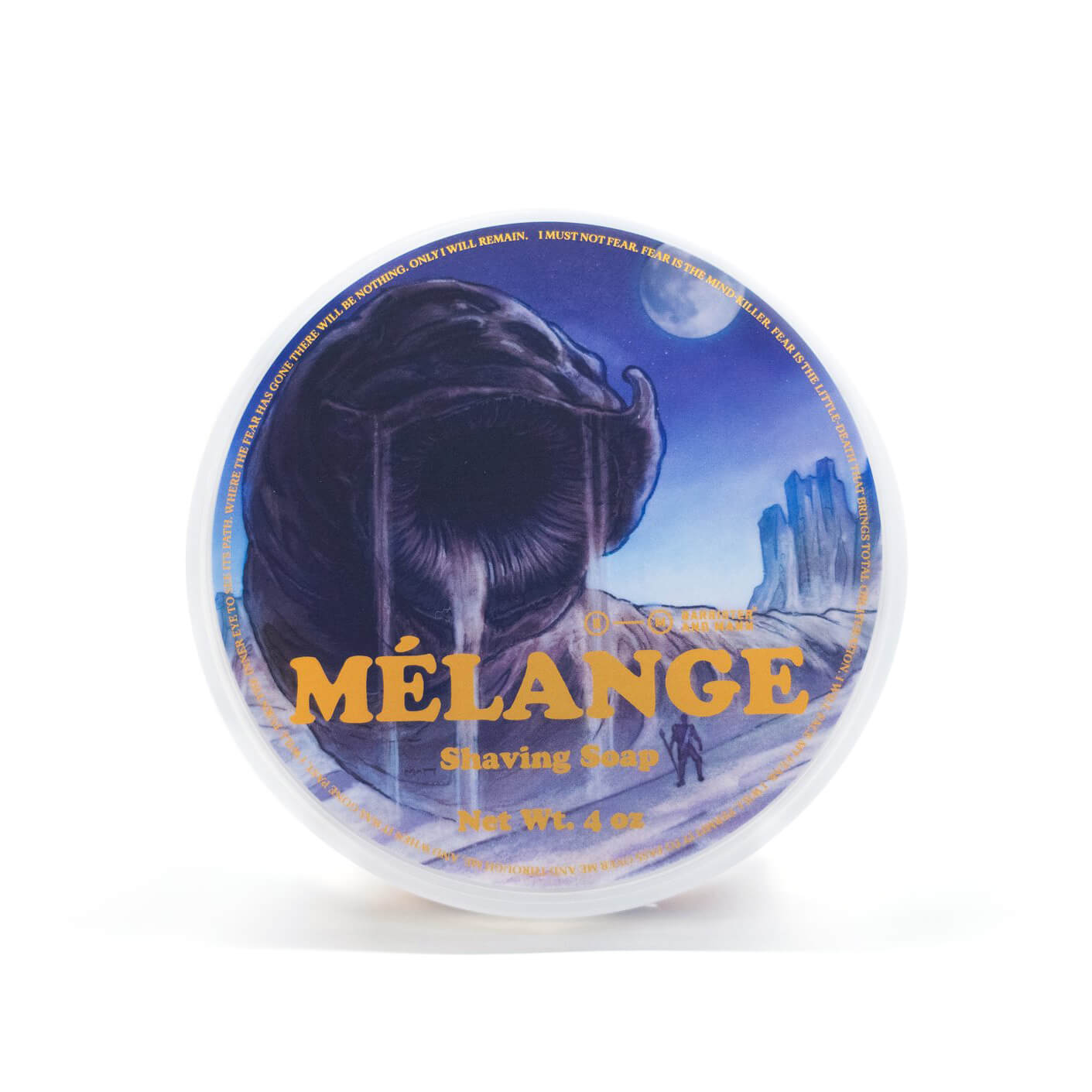 Barrister and Mann Mélange Shaving Soap (4oz)
Mélange is proudly offered in the new lanolin-free Omnibus shaving soap base.
Arrakis. Dune. The only source of the most valuable substance in the known universe, the one that has the power to make or break an empire: The Spice.
The fundamental force underlying Frank Herbert's famously influential and notoriously complex work Dune, the spice Mélange, often known simply as "the spice", is a powerful psychoactive that makes space travel within the story possible. Without it, the mutated navigators of the Spacing Guild cannot predict the flight paths of interstellar starships, and flying blind in such a fashion is a good way to materialise from warp space inside the heart of a star.
In case you couldn't tell, the guys at Barrister and Mann are huge fans of Dune, so, in honour of both one of their favourite novels of all time as well as its recent cinematic adaptation, they wanted to create something truly special. Thus was born Mélange, their interpretation of the scent of the spice itself. Notes of cinnamon, nutmeg, ginger, cardamom, bay, musk and desert air blend to produce an intensely spicy, all-encompassing aroma that brings to mind remote deserts, underground cultures and the rumblings of revolution.
We aim to dispatch all orders placed before 4pm Monday - Friday on the same working day. Any orders placed after 4pm Friday will not be dispatched until the following Monday. No orders will be dispatched on bank holidays.

Postage rates (UK)

Royal Mail Tracked 48 - 2-3 working days* - £4.25
Royal Mail Tracked 24 - next working day* - £5.50
*These are delivery aims and are not guaranteed.

Postage rates (International)

We use a number of international couriers depending on your delivery address, order size, value, weight etc. For the most accurate shipping rate, please add the desired items to your cart and use the shipping estimator tool at the bottom of the cart page.

Brexit, EU orders & import taxes

Slickboys is IOSS registered, which means you won't have to pay import taxes or duties for orders shipped to the European Union as long as the total before shipping is below the €180* threshold. Note that shipping charges are separate and don't count toward the threshold. Click here for full details.

Note: The €180 threshold assumes a VAT rate of 20%. The threshold, excluding VAT, is €150. Refer to the table on our IOSS page for the exact threshold for your specific country.
We hope you will love everything that you order from us but if something isn't quite right, you have 14 days after receiving your item to return it. Returns are completely free in the UK with no printer or post office drop off necessary. Read more here.
Choose options