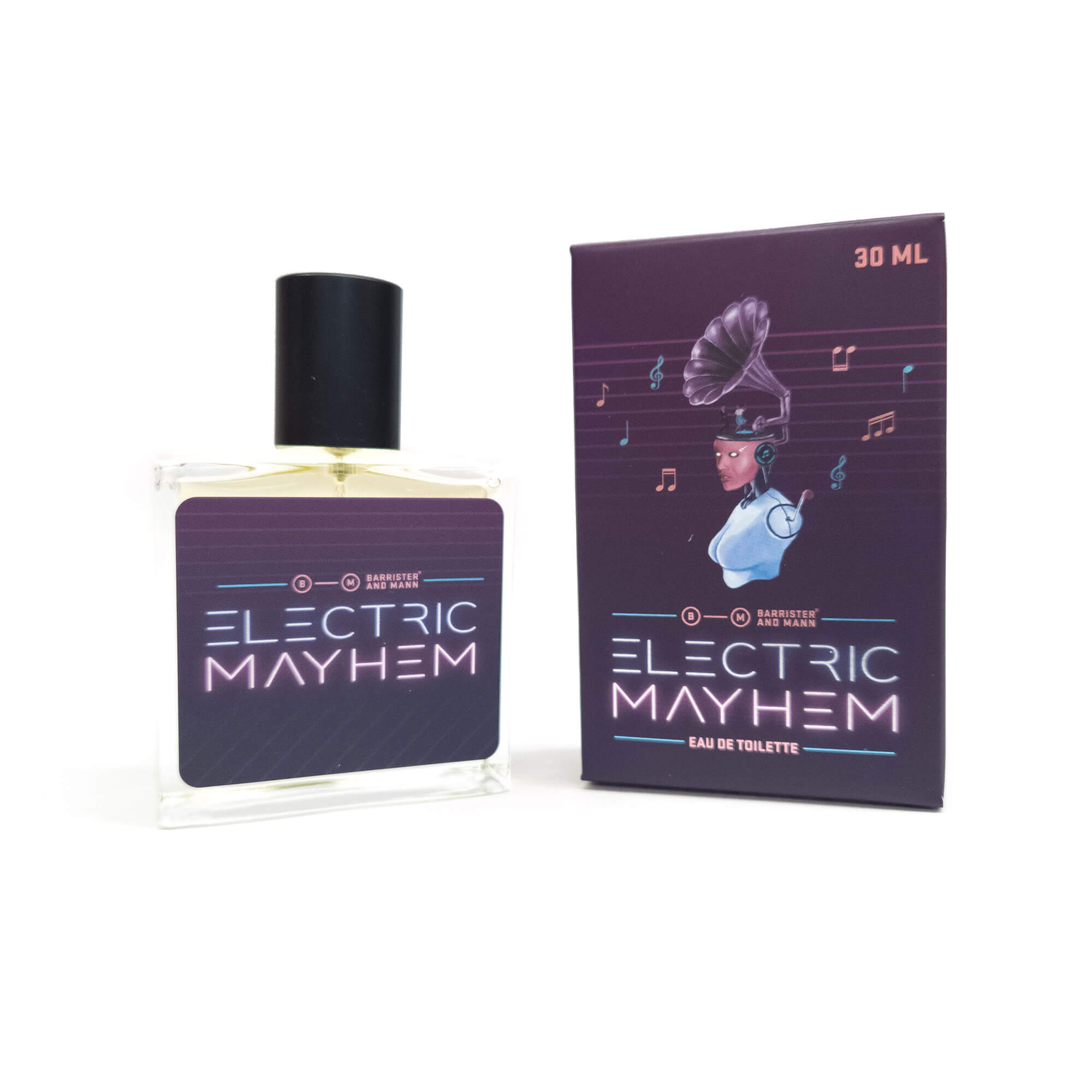 Barrister and Mann Electric Mayhem Eau De Toilette (30ml)
Few things are more emblematic of the roaring 20s than swing music. Bouncing and lively, it was a reflection of the reckless indulgence and newfound freedom of the age, where women smoked cigarettes and danced with their partners and men plotted the deals that would lead to once-in-a-century economic calamity. While the 20s burned out in spectacular fashion, chastening a generation, swing music survived, intermittently regaining popularity in brief revivals over the next few decades.
In the early 21st Century, someone decided to do something a little different. Born from the remarkably inventive combination of swing music's brassy joy and the intense character of modern house music, electroswing is the very essence of impish, thrilling, infectiously danceable music, characterised by glorious brass sections, grinding electronic beats and enthusiastic, wailing vocals to round out the mix. It's the perfect representation of the early millennium, and has become a favourite of the guys over at Barrister and Mann. But it turns out that they're not the only ones having a good time.
After Barrister and Mann contacted Shawn Maher of Chatillon Lux to ask if he might be interested in creating something special for them to represent their love for electroswing, he delivered with more than they could have possibly hoped. Crafted from a blend of yuzu, tamarind, plum, galbanum, ozone, clary sage absolute, rosewood fretboard, ambrette seed and white musk, and reminiscent of nothing so much as hot neon lights and cold drinks, Electric Mayhem is a deliriously happy representation of everything that it means to be young and alive.
We aim to dispatch all orders placed before 4pm Monday - Friday on the same working day. Any orders placed after 4pm Friday will not be dispatched until the following Monday. No orders will be dispatched on bank holidays.

Postage rates (UK)

Royal Mail Tracked 48 - 2-3 working days* - £4.25
Royal Mail Tracked 24 - next working day* - £5.50
*These are delivery aims and are not guaranteed.

Postage rates (International)

We use a number of international couriers depending on your delivery address, order size, value, weight etc. For the most accurate shipping rate, please add the desired items to your cart and use the shipping estimator tool at the bottom of the cart page.

Brexit, EU orders & import taxes

Slickboys is IOSS registered, which means you won't have to pay import taxes or duties for orders shipped to the European Union as long as the total before shipping is below the €180* threshold. Note that shipping charges are separate and don't count toward the threshold. Click here for full details.

Note: The €180 threshold assumes a VAT rate of 20%. The threshold, excluding VAT, is €150. Refer to the table on our IOSS page for the exact threshold for your specific country.
We hope you will love everything that you order from us but if something isn't quite right, you have 14 days after receiving your item to return it. Returns are completely free in the UK with no printer or post office drop off necessary. Read more here.
Choose options